Single Open End Spanner Heavy Duty Flat Oil Pipe Wrenches
Single Open End Spanner Heavy Duty Flat Oil Pipe Wrenches
Bunker

Liyi city of China

10 days

1000 units
Forged integrally using high quality steek, black and antirust processed surface
Stable structure, high density material, good anti-strike capability, longer service life
Product Description
Features
1. Single ended open ended spanner.
2. Manufactured to DIN 894 standards.
3. Black Phosphate finish Manufactured from Carbon Steel Single ended.
4. Box open-end is designed to grip flat sides of fastener heads, to prevent round-off.
5. You can operate very convenient with the wrench for car home decoration.
Specification:
- Material: High Carbon Steel
- Length:27mm-75mm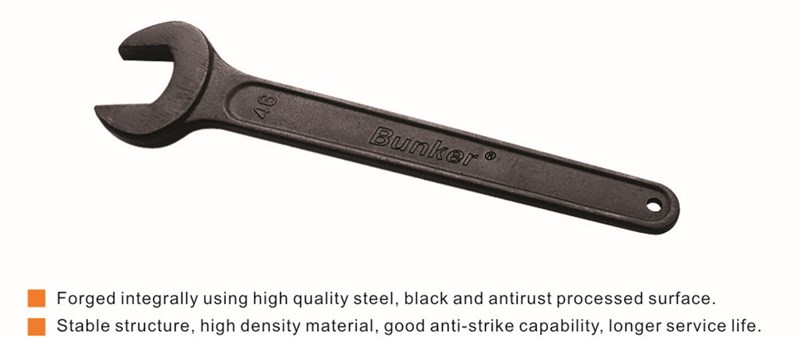 | | | | | |
| --- | --- | --- | --- | --- |
| Item No. | Size | Box/Ctn(pcs) | GW/NW(KG) | Carton Size(cm) |
| BK-294101 | 27mm | 1/50 | 15/14 | 24*17*16 |
| BK-294102 | 30mm | 1/50 | 24/23 | 28*18*19 |
| BK-294103 | 32mm | 1/50 | 24/23 | 28*18*19 |
| BK-294104 | 34mm | 1/40 | 28/27 | 34*18*20 |
| BK-294105 | 36mm | 1/40 | 28/27 | 34*18*20 |
| BK-294106 | 41mm | 1/20 | 20/19 | 35*15*18 |
| BK-294107 | 46mm | 1/20 | 24/23 | 36*15*19 |
| BK-294108 | 50mm | 1/20 | 29/28 | 40*15*21 |
| BK-294109 | 55mm | 1/20 | 29/28 | 40*15*21 |
| BK-294110 | 60mm | 1/10 | 23/22 | 45*13*20 |
| BK-294111 | 65mm | 1/10 | 23/22 | 45*13*20 |
| BK-294112 | 70mm | 1/5 | 16/15 | 46*14*13 |
| BK-294113 | 75mm | 1/5 | 16/15 | 46*14*13 |
Single ring end spanner

| | | | | |
| --- | --- | --- | --- | --- |
| Item No. | Size | Box/Ctn(pcs) | GW/NW(KG) | Carton Size(cm) |
| BK-294001 | 27mm | 1/40 | 15/14 | 32*18*14 |
| BK-294002 | 30mm | 1/40 | 23/22 | 37*21*15 |
| BK-294003 | 32mm | 1/40 | 23/22 | 37*21*15 |
| BK-294004 | 34mm | 1/40 | 23/22 | 37*21*15 |
| BK-294005 | 36mm | 1/30 | 22/21 | 37*21*15 |
| BK-294006 | 41mm | 1/20 | 17/16 | 40*13*16 |
| BK-294007 | 46mm | 1/20 | 23/22 | 41*14*18 |
| BK-294008 | 50mm | 1/10 | 12/11 | 36*15*13 |
| BK-294009 | 55mm | 1/10 | 15/14 | 36*15*15 |
| BK-294010 | 60mm | 1/10 | 17/16 | 40*15*15 |
| BK-294011 | 65mm | 1/10 | 21/20 | 41*17*17 |
| BK-294012 | 70mm | 1/5 | 13/12 | 46*13*16 |
| BK-294013 | 75mm | 1/5 | 13/12 | 16*13*16 |
Slogging wrench-open ended

| | | | | |
| --- | --- | --- | --- | --- |
| Item No. | Size | Box/Ctn(pcs) | GW/NW(KG) | Carton Size(cm) |
| BK-219001 | 36mm | 1 | 1.3/1.2 | 20.8*7*3.2 |
| BK-219002 | 41mm | 1 | 1.7/1.5 | 25*9.5*2.2 |
| BK-219003 | 46mm | 1 | 1.7/1.5 | 25*9.5*2.2 |
| BK-219004 | 50mm | 1 | 2.8/2.5 | 27*11.5*2.5 |
| BK-219005 | 55mm | 1 | 3/2.7 | 27*11.5*2.5 |
| BK-219006 | 60mm | 1 | 3/2.8 | 30.5*13*2.8 |
| BK-219007 | 65mm | 1 | 3.2/3 | 30.5*13*2.8 |
| BK-219008 | 70mm | 1 | 3.6/3.4 | 33.5*14.8*2.8 |
| BK-219009 | 75mm | 1 | 4/3.6 | 33.5*14.8*2.8 |
Slogging wrench-ring ended

| | | | | |
| --- | --- | --- | --- | --- |
| Item No. | Size | Box/Ctn(pcs) | GW/NW(KG) | Carton Size(cm) |
| BK-219101 | 36mm | 1 | 1.3/1.2 | 20.8*7*3.2 |
| BK-219102 | 41mm | 1 | 1.7/1.5 | 25*9.5*2.2 |
| BK-219103 | 46mm | 1 | 1.7/1.5 | 25*9.5*2.2 |
| BK-219104 | 50mm | 1 | 2.8/2.5 | 27*11.5*2.5 |
| BK-219105 | 55mm | 1 | 3/2.7 | 27*11.5*2.5 |
| BK-219106 | 60mm | 1 | 3/2.8 | 30.5*13*2.8 |
| BK-219107 | 65mm | 1 | 3.2/3 | 30.5*13*2.8 |
| BK-219108 | 70mm | 1 | 3.6/3.4 | 33.5*14.8*2.8 |
| BK-219109 | 75mm | 1 | 4/3.6 | 33.5*14.8*2.8 |